Corporate Partners
As a non-profit research and educational foundation, RPMNF relies on the generous donations from corporate sponsors to make the tremendous field projects, student opportunities, and research possible. The following organizations not only receive the benefit of tax-deductible contributions but have their businesses promoted as part of the high-profile research projects conducted by RPMNF.
Highland GeoSolutions

Since 2004, Highland GeoSolutions has worked with RPMNF in staffing, data collection, survey equipment, and data management. Hosts of student interns organized by Highland GeoSolutions have gained practical survey experience in field projects. The partnership not only incorporates project work where time and materials are donated to RPMNF, but also has expanded into providing educational courses.
MTCS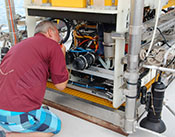 RPMNF's continued partnership with MTCS has provided unparalleled opportunities for their students in ROV piloting to gain live stick time, as well as hands-on maintenance. Working on exciting field projects throughout the Mediterranean, MTCS students jump-start their careers by donating their piloting skills. Moreover, former students continue to stay involved, donating their now advanced experience to operations.
Dive Gear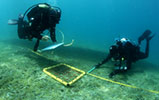 The generous support by Titan Dive Gear, Atomic Aquatics, Zeagle, aquaSketch, and BARE through donations of diving equipment has allowed students to participate in RPMNF Mediterranean field projects and our partnered ICEP Field Schools in the Adriatic. Students are now able to participate in exciting dive surveys and data collection, whereby they gain field experience in scientific dive expeditions.