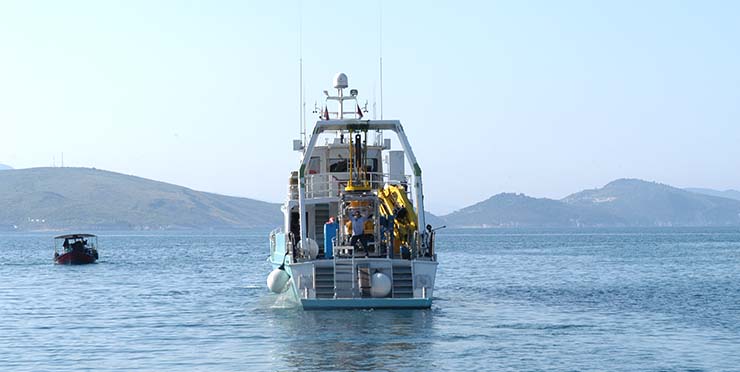 Research Vessel Hercules
The R/V Hercules has been designed and built to perform littoral maritime archaeological survey and limited excavation. The vessel is designed as a self-sufficient base for a wide range of project functions in moderately deep littoral waters, typically limited to 500m. These operations include remote sensing equipment (primarily multibeam systems), the deployment of ROVs and other AUVs, the capability for side-scan sonar, and diving operations. Hercules is equipped with a dynamic positioning system and advanced data processing capabilities that include a state-of-the-art data control center. Additionally, the R/V Hercules is also equipped with adequate deck space and lifting systems to transport and deploy auxiliary vessels, as well as an integrated Nitrox system for multi-diver operations.
R/V Hercules Specifications
Length: 37.3m /122ft
Beam: 6.7m /22ft
Configuration: Monohull
Draft: 1.5m / 5ft (thrusters deployed 2.1m / 7ft)
Engines: Two Caterpillar 900-horsepower 3412 diesel engines
Power Supply: Two 65kw and one 30kw Northern Lights generators
Fuel Capacity: 26,500 liters / 7,000 gallons
Cruising Speed: 12 – 16 knots
Range: 1,000 nautical miles
Navigation Systems
Two Simrad RA54 (12kw) 72-mile range radars
Furuno RC1815 GMDSS weather and distress communication system
KVH Fleet 77 SATCOM
Simrad CP44 GPS WAAS chart plotter
Trimble DSM132 DGPS (Omnistar ready)
Kongsberg/Simrad DPIO System Dynamic Positioning Computer – Fugro demodulator interfaced with Seatex 200 DGPS System
Kongsberg/Simrad HIPAP System Acoustic Positioning
Simrad EQ60 and EQ42 depth sounders
Data room aboard with full collection, processing, and analytical capabilities for multibeam data

Two 52-inch display screens that allow multiple video feed manipulation
Video/display controller for customizing feeds for job specific tasks
16-channel video/display router that allows ship-wide display of imagery
Berthing
Accommodations for seven crew members. Space for five additional individuals that include technicians, archaeologists, and guests.
Decking and Fixed Equipment
Lifting crane: 5-ton capacity with 6.7m / 22 ft reach
A-Frame: 5-ton capacity
Nitox Technologies scuba compressor system
Remote Sensing Equipment
Kongsberg – Simrad multibeam echo sounder systems (R/V Hercules)

EM1002 maximum depth to 600 m, 95 kHz frequency
EM3002 maximum depth to 120 m, 300 kHz frequency

Primary processing software: CARIS HIPS/SIPS and IVS Fledermaus
3 Geometrics G-881 Cesium Magnetometers 300 m operating depth
ROV (Remotely Operated Vehicle)

Specifications
Model: Seaeye Panther XT
Length: 1.750 m
Height: 1.217 m
Width: 1.060 m
Weight: 500 kg
Forward Thrust: 220 kg
Lateral Thrust: 170 kg
Vertical Thrust: 75 kg
Payload: 105 kg
Maximum Working Depth: 1000 m
ROV Equipment
Four simultaneous video channel feeds via fiber-optic transmitters
Kongsberg High-Definition color camera
Two additional color cameras mounted on the left manipulator arm and downward facing on top rack
360° sonar navigation system
Depth sensor with +/- 0.1% accuracy of full-scale deflection
Kongsberg HiPAP 350 tracking and positioning system; beacon for determining ROV position from support ship
Two multi-function manipulator arms: 6-function manipulator and 5-function grabber
Suction/blower tool
Laser measuring device set at 10cm for video and photographic scale
Tether Management System
Type 3 bale arm tether management system; 150m excursion limit
Two 400-watt lights affixed pointing downward
Lookdown and reverse-look camera
Large collection nets for raising artifacts