Amphoras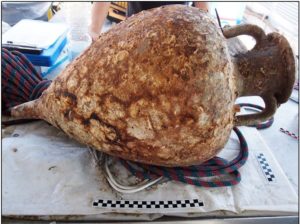 During ROV operations, hundreds of amphoras (Greco Italic V/VI and Punic) have been located on the seafloor; each had its position and depth recorded. The total to date is 628 Greco-Italic amphoras (92.5% of total) and 56 Punic types (7.5% of total). Overall the Greco- Italic and Punic amphoras are in varying degrees of condition, yet 70.1% are complete and intact and 82.9% are complete intact or broken with all of the amphora is present. Several examples were raised for analysis. Their distribution is a scattered pattern over an area at least a km long. There are no areas of concentrated groupings indicative of a typical merchantman wreck site or formed by the dumping of drag net collections. This distribution pattern was most likely formed by their being dumped by a moving vessel at or near the surface, and likely not in an instant event. It is also certain that more than one vessel was involved.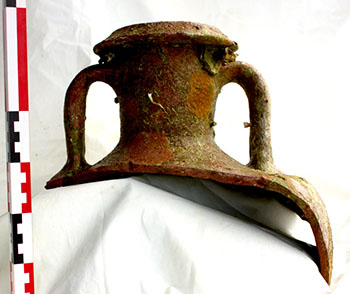 The mix of amphoras with other artifacts in the distribution, particularly the warship rams, further supports that warships were carrying supplies during this operation; and those ships were likely Carthaginian. How far this amphora distribution extends is yet
to be determined. The Greco-Italic type V/VI amphora tops gathered near the Egadi 2 ram find area in 2009 are of the some type and fabric as those collected from the PW-A area. This further supports that drag nets moved the Egadi 2 ram along with Greco-Italic amphoras from the eastern portion of the PW-A area to the N nearly 6 km.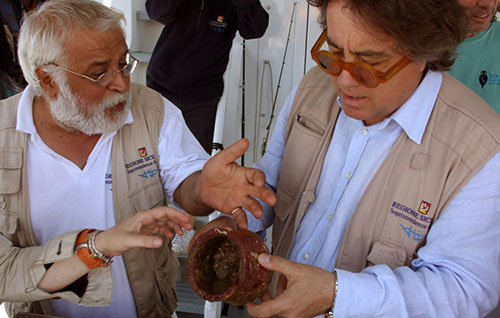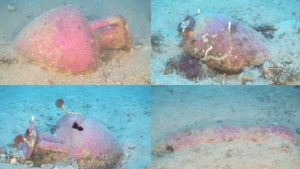 Tableware
Thirty pieces of tableware have been discovered; the variety now includes bowls, cups, jugs; all appearing to be of a coarseware fabric. It is certainly conceivable that these objects were part of the shipboard items. As tableware is quite small in comparison to amphoras, and numerous amphoras are mostly buried, it is conceivable and likely that there is yet a larger amount of undetected tableware in the PW-A area.