Maximal Length: 74.0
Maximum Height: 63.0
Driving Center L (DCL): 69.0
Head Height (HH): 24.0
Head Width (HW): 38.0
Average Inlet Width (IW): 39.0
Average Inlet Height (IH): 16.5
Inscription: Latin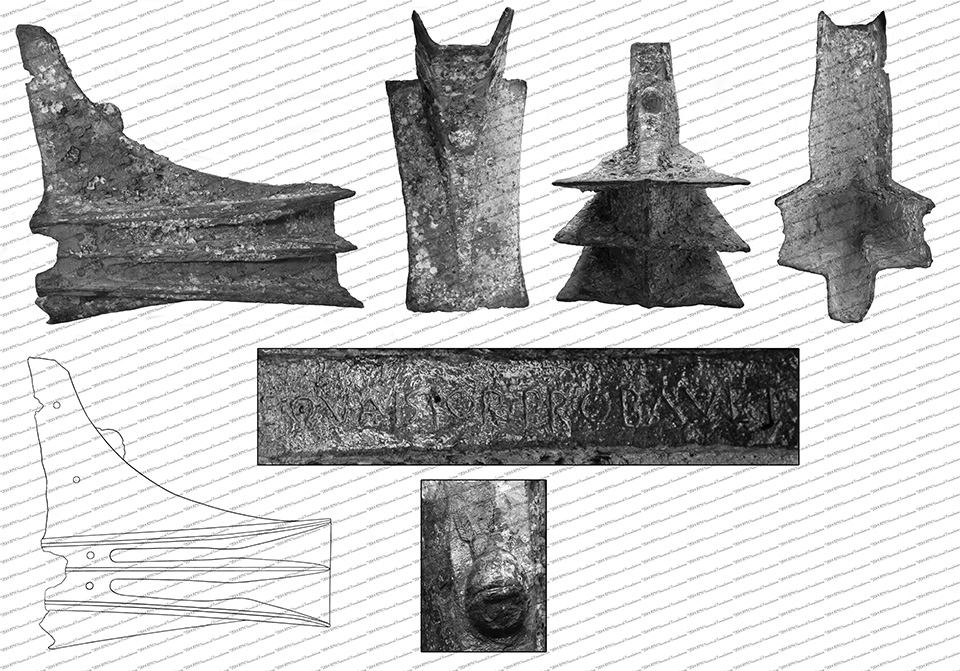 The Egadi 7 ram is without a verifiable provenience, it was reportedly recovered by fishermen northwest of Levanzo Island. While there is some uncertainty as to whether the ram itself was recovered from the battle zone, it is most likely associated with the event. A molded decoration and a Latin inscription extend down the upper portion of the cowl's nosing. It's driving center length, width of inlet, thickness of fin, and height of driving center are values in the middle range (of all recovered rams), but maintains a symmetrical shape in plan. Damage is slight, with similar missing portions located just aft of the upper, starboard cowl attachment. Small notches on the upper fin at the head, particularly on the port side seem old and worn smooth. Perhaps this ram was fitted on a warship that had seen a long period of service. The most conspicuous damage is the possible complete removal of the face of the molded head, the ragged boundary and lack of any other deformation suggesting deliberate removal in antiquity.