Albania Survey Project: 2013 – 14 Field Season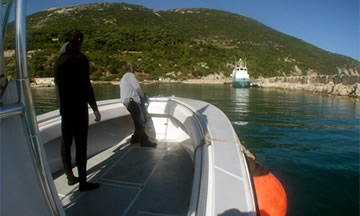 In July/August of 2013-14, the first large-scale survey of the Albanian coast continued, a project undertaken by RPM Nautical Foundation (RPMNF) in conjunction with Neritan Ceka and Auron Tare, Director of the Albanian National Trust. This project was also made possible by the cooperation of the Albanian Ministry of Defense and Ministry of Culture and Tourism. The survey during 2013 and 2014 contined surveying in the area of Vlore, the ancient Greek colony Aulon founded in the 6th century BC.

These field seasons featured the use of several different remote sensing technologies, which included: autonomous underwater vehicle (AUV), sector scanner sonar and multibeam sonar. The various remote sensing techniques were utilized to overcome difficulties such as visibility and high gradients on the seafloor that render both bathymetric recording and sight recording difficult. The goal is to complete the area within Vlore harbor, past Sezan Island, out to the 100-m contour, in this case, the contour extends several kilometers offshore.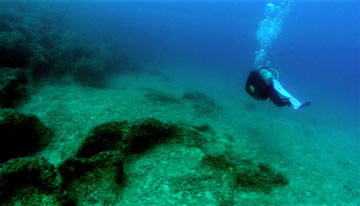 Along with this newly surveyed area, a major effort was made to record all previous sites with the sector scanner sonar in order to better ascertain their shapes and dimensions. Many submerged sites along the Albanian coast are in softer sediments that become easily suspended in the water column and render visual recording difficult. As such, the sector scanner recording over the past two seasons has greatly enhanced our understanding of these sites. Subsequent seasons will continue the efforts near Vlore and if new equipment is obtained it will be possible to better survey the areas to the south where the 100-m contour is extremely close to the shoreline.