Ancient Wreck MN11-AE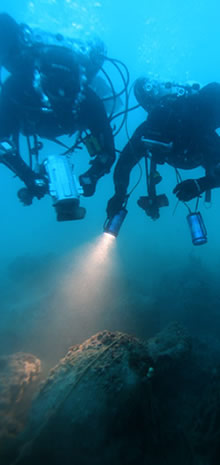 Date: 4th century BCE
Era: Hellenistic
Location: Montenegro Coast
Estimated Length: unknown
Estimated Width: unknown
Cargo: Corinthian A and B amphoras
Site MN11-AE Findings
The Budvanski Zaliv 1 wreck consists of a large, well integrated and intact wreck site formed by a large cargo of amphoras. The amphoras noted in both video, and the two sampled amphoras, were all of Corinthian types: both A and B varieties. The morphology of the ones sampled, and those noted in the video, indicate a date in the 4th century BCE. Two amphoras were raised from the site (MN11AE-0001,0002); both were a small variety of Corinthian type B.
In addition to the amphoras, there was a large pithos at each end of the wreck site; each was sitting relatively upright. It is possible that these were used for shipboard use or, as in other wreck sites, they may contain cargo items of higher value.
The height of stacked amphoras visible above the seafloor and noted amphora tops projecting from the soft underlying sediment indicates a substantial buried portion of the wreck, which would undoubtedly include hull structure.