Croatia Coastal Survey Project: 2012 Field Season
Multibeam operations were undertaken during July by the R/V Hercules. The survey program aims to conduct multibeam survey along the entire coast of Croatia out to the 100-m contour from near Rt. Ostra in the south to Rt. Veliki Pač in the north. As this was the inaguaral season, the area designated for survey was kept manageable and easily completed in the tw0-week time frame.
Site CR12-AA
This disorganized site lying approximately 1.3 km offshore is a mound comprised of mud-sand, and from its surface appearance has been disturbed. Most of the artifacts are ceramics, many are broken and scattered around the site. Overall, the disturbance pattern appears to be caused from fishing dragnets.. One area has an approximately 1 x 1 meter concentration of what appears to be tableware. Material on the surface of the Molunat 1 wreck has the shape forms of plates, bowls, and cups. Several examples were collected from this concentration.
Site CR12-AB
A mound of mud-sand lying approximately 1.6 km offshore is oriented on a distinctly SE-NW axis; material extends from one end of the site to the other. At the SE end of the site there are at least three large iron anchors that lie in opposite directions next to one another. The pattern has the appearance of anchors stowed on deck.Considering the material observed on the surface of the site, some preliminary hypotheses are possible for the provenience of the wrecksite. The presence of the small wrought-iron swivel guns places the wreck likely in the 16th century or later. By the late-15th century merchantmen in the Mediterranean were arming their vessels with wrought-iron swivel guns; this trend continued to become a common practice in the 16th century in light of the increased dangers of operating on a competitive and hostile sea.Taken as a whole, this vessel probably operated in the 16th century. At this time the Republic of Ragusa was a vibrant maritime trading center, which conducted trade throughout the Mediterranean and flourished particularly in the 16th century. Hence, a cultural association for the Molunet 2 wreck of Venetian (or another Italian maritime city) or possibly Spanish is possible.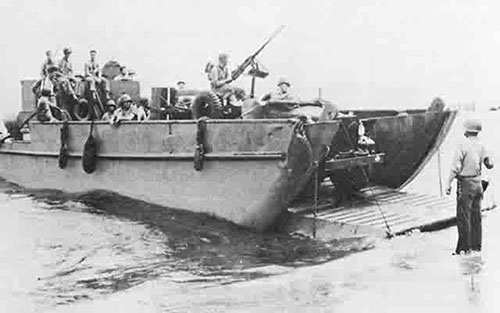 Site CR12-AC and Site CR12-AD
These two sites are considered part of a single event due to their both being formed by the deposition of specific and identical landing craft. The landing craft are rectangular in shape due to their flat-bottom construction, vertical sides and stern, and vertical door at their bow. Each was intact and did not exhibit any significant damage; however, there were no vehicles in their bays. Some debris was found around each landing craft, along with some material between them, that could be associated with the vehicles they carried or other material from the operation.