Date: 280 – 260 BCE
Era: Hellenistic
Cargo: Corinthian A and B amphoras, anchor stock
During dive survey operations, a wrecksite was encountered on a steep slope at a depth ranging between 20 – 30 m. The site was spread out over an area of approximately 50 m at its deepest section, but trailed towards its center line as the site progressed shallower. These deposits were amphoras grouped on the surface and/or buried in the sand. In at least two areas, hand-fanning revealed that groups of intact amphoras were below the surface. The seafloor on this slope features many rock outcrops with pockets of sands inter-dispersed among them. Many of these pockets are several meters in width; it is within these pockets that amphora fragments and intact vessels are found. Many of the amphoras on the surface have relatively little damage, and there was at least two intact examples. One of these intact examples was raised for analysis.
The majority of the amphoras on the site are of a large Corinthian variety, Type B, that have characteristics that places them late in the development of this form. One example, found on the surface, was collected for cleaning and measurement-identification analysis. This amphora was sent to AIA for conservation and further recording. Comparative examples place them between 300-275 BCE, and probably later in this date range.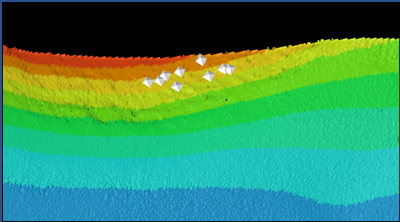 There are also smaller Corinthian variants, between 35-45 cm in height that have a very similar morphology to the larger Type B forms, except that there bodies are much shorter. A lesser number of Corinthian Type A amphoras are also present on the site, possessing a bulbous body, curved handles, and slightly everted rim. Considering the nature of this site, the extensive individual finds, and the state of deeper material, the submerged cultural material along the Albanian coast is relatively untouched compared to the majority of Mediterranean countries.
Most of the Corinthian amphoras on the surface were in good condition with few breaks or in large pieces. These Corinthian types comprise the majority of the examples found on the site and are undoubtedly the cargo of the vessel. Although it is quite clear as to the identification of the form of amphora, its origin is not clear at this point. Corinth is certainly a production area for this type of amphora. However, copies were also produced in Apollonia and Corcyra; these were shipped throughout the immediate region as well. A fabric analysis will be required in order to determine the provenience of this particular find. Contact has already been made with Dr. Sharon Stocker at the American School of Classical Studies in Athens who is working with ceramic material from Apollonia and can be consulted on comparisons.
Other amphora types were found on and around the site. These included several examples of an earlier form of the Corinthian B amphora; this form is typically dated to the early 4th century BCE and has a similar distribution pattern throughout the eastern and central Mediterranean. Other types located on the site, which are assuredly intrusive material, include a Late Roman Adriatic, Dressel 20, Dressel 2-4, and a possible Late Roman 4-D type. There is also a badly damaged amphora that appears to have high, peaked handles, this may be a Rhodian or Dressel 5 variant.
In addition to the ceramic finds on the site, a lead bar of approximately 0.80 m in length was located in the central section of the site. This bar had a rectangular cross-section and a slight curvature, with a hole passing through it at the midpoint. This bar is most likely the fill for an anchor stock that was on-board the vessel, as this type of anchor was used during the Hellenistic era.
The South Butrint wrecksite is, therefore, not likely to be a unique find during the program of survey. From an academic interest, such sites offer a wealth of information to the questions of overseas trade involving such ancient cities as Butrint, Apollonia, and Dyrrachium, as well as the Illyrian and Epiriote states.