Date: circa 400 BC
Era: Greek Classical
Location: Albanian Coast
Cargo: Tiles, Corinthian A and B amphoras
The wreck was discovered approximately 7 km off Cape Qefalit situated in a depression that was likely a product of the wreck settling in the soft sediment combined with scouring from the currents that run through the Corfu Straits. Consequently, drag nets would likely skip over the top of the wrecksite (AB08-AG) leaving the artifacts largely undisturbed. Undoubtedly, the nature of the cargo also reduced disturbance as the primary surviving cargo is roof tiles. Many of the tiles remain stacked and form an integrated deposit. The tiles include both pan and cover forms.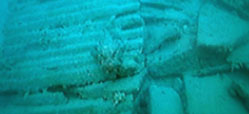 Initial examination of one sample (artifact AB08-0012) reveals a yellow fabric with dark inclusions, typically characteristic of Corinth. The flange shape and dimensions of the pan tiles are consistent with the 4th century BCE. Few amphoras were noted on the site, with all being positioned at the ends of the site where the likely positions of the bow and stern are situated. At least three forms of amphoras were noted in the initial verification, all belonging to Corinthian types A and B.
The single Corinthian B amphora visible had a pyriform body and long straight neck; characteristics typical of the 4th – 3rd centuries BCE. Corinthian A amphoras were also present on the site, two examples of which were collected for analysis (artifacts AB08-0011, AB08-0013). Both of these varieties, a large and a small, exhibit characteristics common to the 4th century BCE. The fabrics of the raised amphoras are not as clearly associated with a Corinthian origins and could be shipboard items collected in nearby ports such as Corcyra.