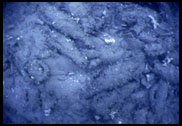 Date: 2nd century CE
Era: Roman Imperial
Location: Montenegro Coast
Cargo: predominately Rhodian amphoras
Investigation of a high priority anomaly resulted in the discovery of an ancient wrecksite (MN10-AC) of the Roman era. This was a moderate-sized merchantman carrying a cargo of amphoras; upon initial investigation no other cargo was apparent; however the site is dramatically overgrown. Backscatter data indicates a deposit of approximately 23 x 15 m in dimension, much of which is buried.
Three amphoras were raised for analysis; artifact numbers: MN10AC-0001, 0002, and 0003. All of the amphoras visible on the site and the three raised were of a single general type, Rhodian, and clearly exhibited diagnostic features such as the horned handles that are round in cross-section. However, each of the raised amphoras was a different variation of the Rhodian type, and included two large varieties (MN10AC-0001, 0002) and a smaller variety (MN10AC-0003). This smaller variety had a much slimmer body, noticeably less volume, yet maintained similar dimensions for the neck, handles, and mouth/rim. The difference in size and shape for these amphoras is likely due to the product they contained. Evidence for contents in Rhodian amphoras has predominantly indicated wine and specialty wine products. The larger varieties in the cargo were likely carrying a variety of wine, whether from Rhodes or in the nearby Aegean/SW Anatolian region, while the small variety may have carried a specialty wine.
Some of the Rhodian amphoras found on the mid-1st century CE Dramont D wreck from the S coast of France carried figs. The characteristics and form of the amphoras on the Traste 1 wreck indicate they are late in the type's developmental life, and probably date to the end of the 1st century – mid 2nd century CE. This wreck was c. 5-6 km offshore and strengthens the argument for ancient wreck events that do not necessitate a collision with shore features.