Montenegro Coastal Survey Project: 2012 Field Season
The 2012 field season multibeam coverage continued from Cape Platamuni into Budvanski Zaliv, where it filled in the gaps left in 2011 and extended the survey area out to the 100-m contour. Depths for the survey ranged from c. 25 m in the shallow bay areas to 100 m. The multibeam survey has reached an area roughly parallel with the island of Saint Nikola. During the 2013 field season, the multibeam survey plan will include finishing the small gap left this season and continuing in a SE direction towards Bar.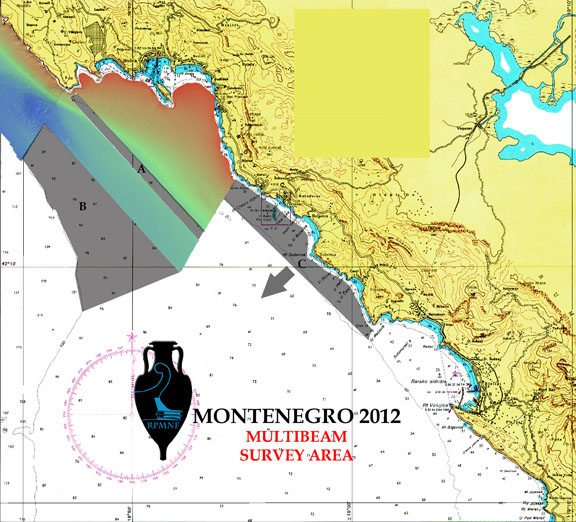 Anomaly Verification
With viable anomalies from the 2011 season mostly completed, verification efforts focused on those remaining from the 2011 survey data and the new anomalies generated in 2012. Per usual methodology, anomalies that are clearly modern vessels and those with great potential for ancient wrecks are marked as primary; additionally, representative anomalies in areas with odd seafloor features are also marked for investigation. Primary anomalies are all verified, while those in exploratory areas were expanded upon or narrowed depending on findings. A few anomalies remain from the 2012 season and may be completed in the 2013 field season.
Sites
A new ancient site was located during anomaly verification in 2012, this brings the total to 22 wreck sites for the 4 field seasons. Additionally, the four ancient sites discovered in 2011 were revisited and additional samples taken for analysis. A total of 10 ancient wrecksites have now been located between the entrance of Boka Kotorska and Budvanski Zaliv within 6-7 km of shore.
Site MN12-AA: Budvanski Zaliv 4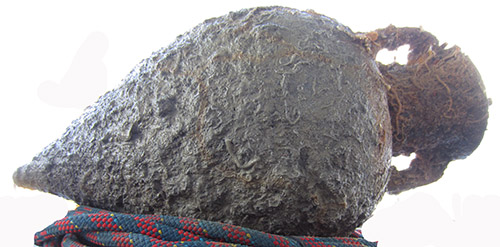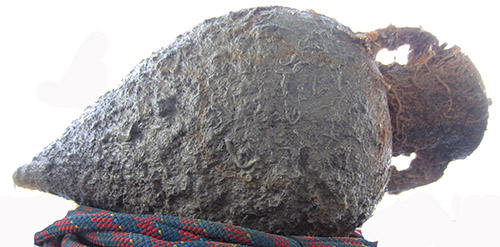 A large, well integrated and intact wreck site formed by a large cargo of amphoras. The entire site forms a mounded formation. Many of the amphoras on the surface are impacted by net drags (some gear trapped on site) that have resulted in a large number of sherds scattered throughout the site. Most of the amphoras appear to be of the Corinthian B type, which date to the 4th century BCE, yet there is also a more elongated type noted amidst the amphora pile. There is at least one layer of amphoras that appears to be completely buried in the soft sediment surrounding the site. These amphoras look to remain in rows.
Sites Re-visited for Ceramic Sampling
Four previously located sites from 2010 and 2011 were re-visited in order to obtain additional ceramic examples. These collected artifacts assist in determining the nature of the cargo, and fabric samples taken from some of them were sent for analysis at the University of Southampton. Petrologic, and possibly thermoluminescent, tests on these samples will assist in determining the manufacturing origin of the amphoras.